#Selfie with Miller Lite Fans!
How to Get Work as a Promotional Model #modeladvice #modellife
|
What you need to get started: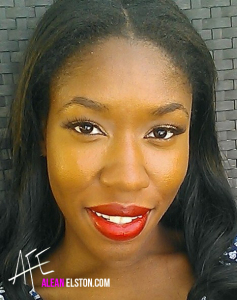 The pictures that you need don't have to be professional, you need a clear picture of you face and a clear picture of you from head to toe. These pictures don't have to be professional but they should show you in the best and clearest light possible. Stay away from selfies with your arm in the picture, and group pictures where it's hard to see which one you are. These pictures should include you, and you alone and should have a plain background, or one that isn't too busy. The headshot picture, the picture of your face, should be a picture of you smiling and looking very friendly/approachable. DO NOT send pictures of you doing a kissy face or duck face or one where you think you are getting your fierce on, but you just look angry or mad. The headshot picture above is what I submit when applying for promotional work. Some think its a professional picture but its actually a selfie that I took on my phone and cropped it to use for a great headshot!
The full length picture, the picture of you from head to toe, should be a picture that shows your body structure. This does not mean, send half naked or naked pictures! That implied nude stuff may work if you are submitting to a glamour magazine but NOT for promotional modeling. Swimwear pictures are fine, just make sure that if its something that could be considered men's magazine worthy, you shouldn't submit it. Remember, your images are being reviewed by a marketing/promotional company to be shown to their clients who more than likely are not going to send you out to rep the company half naked or naked. You should however, send pictures of you, and only you (crop the picture if you have to), in a figure flattering outfit in heels or a swimsuit picture if you are a female or for guys (think business casual) a crisp clean button up shirt and khakis/dress pants should do it. See my picture above for a reference.
This is the part where most people freeze, usually when people are starting out as models they pick up promo modeling work to start or they are not a model but using this type of work for extra cash. So they don't really have anything to add to a modeling resume. When it comes to putting together a resume for this type of work, refer to my promotional model/model resume and tweak it to fit your experiences. If you don't have any model/promotional model experience, keep the stats listed in my resume (height, shoe size, hair color, etc.) and list any related experience (bartender, trade show experience, customer service experience, public speaking, etc.) that shows you are not hesitant to interact with people and you have an ability to hold a conversation. Any special skill you have should be listed as well such as you speak language other than English, MMA fighter, singer, etc.
This is crucial; you need to be able to get to and from the various locations of your events. There also may be times where you are shipped materials that you will need to execute your events. Chances are you won't be able to carry that stuff on the bus or train without hassle.