I know I'm probably going to look really bad for just posting this but, things have been really busy lately for me and I couldn't put this post off any longer. So here goes!
I attended the Stop the Runway Against Domestic Violence Fashion show benefit dedicated to the late Vanessa Banks of Philadelphia. I have never met Ms. Banks, but from what I have heard and read about her online she was a model from who was murdered by her boyfriend in a domestic violence incident. When I heard about the event, I knew it was something that I had to attend and support. Domestic Violence is an undercover issue especially with our young adults and it needs to be brought to the light. Its a shame that she had to die in order for this cause to have garnered attention on this level but for me, I'm glad it did. Everyone knows of someone who has been or is a victim of domestic violence. They may not have told you about it but you can bet that out of every 3 people that you know, 1 of them is or has been in a domestic violence situation. This was one of the stats that was mentioned at the show by author Brenda L. Thomas who is a victim of domestic violence. She gave a brief account of her experience of being in an abusive relationship and how she eventually came to the point she is at now. What stuck with me the most is when she mentioned that she did not want others to go through what she went through and that is why she tells her story. The key to everything in this life is knowledge, when you don't know something it leaves you at a disadvantage. When you know what domestic violence is and how to identify it, you are more than likely to survive and hopefully help others to do the same.
NOW comes the Show RECAP!
What I wore:
With all of the running around that I have been doing lately, I opted to keep it simple, professional, and cool. I'm so used to dressing "modelly" so I decided to look like the cute young business owner that I am, that's out for the night lol. Sho here's how I achieved that look:
Hair
My trademark Cinnabun Hair do with my Flower in my hair.
EcoStyler Olive Oil Gel
a bunch of bobby pins
a black shoelace to tie up that 'froliciousness 😀
Makeup
Foundation L'Oreal HIP
Fashion Fair Pressed Powder
Hard Candy "temptation" pallet eye-shadow (inner corner)
NYC brow kit in brunette (brows)
L'Oreal "copper penny" eye-shadow (lids)
Yagolicious "fireplace" eye-shadow (crease/outer corner)
NYC liquid eyeliner "extra black"
Clinique eye-shadow palette in copper-mine (highlight/brow bone)
Maybeline Mascara in blackest black (that trademark pink bottle with the green cap)
Too Faced Eye-shadow primer
Salon Effects Natural lashes #53
NYC Lipstick in Blue Rose
Outfit (nothing fancy)
Dress – Ya Los Angeles (bought it at Plato's Closet)
Jacket (had that thang so long IDK where I got it)
Shoes Grey pumps from Bakers
What do you think of my look?
Show Details and Pics!
The Purple Carpet started off with local radio personality Kendra G hosting and interviewing the talent and VIPs of the night…
While everyone mingled and settled into their place to watch the show…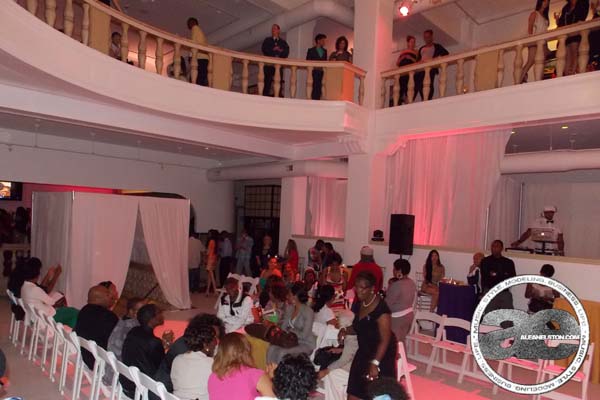 …While the the models looked great as they showcased a few designs before the show started. they all donned loosely curled hair that was smooth at the roots and teased towards to the ends creating a what looked like a semi-afro for most of the models. Makeup looked lovely as well, Im a lover of a RED lip and it was done spectacularly (is that a word?! lol). It was glam enough that the eyes weren't competing with the lips and achieved a very balanced face.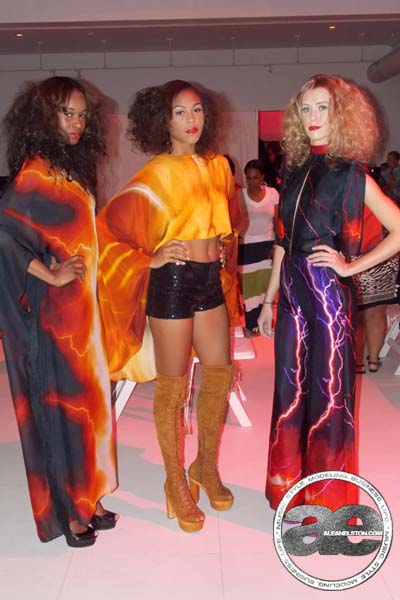 I did have an opportunity to meet the makup sponsors for this event but I can't remember the name of the company, or the name of the woman I spoke to. If you happen to read this please reach out to me with your contact info, I'd love to find out more about your products! 🙂
But I digress, next up the clothes……….BABY, the clothes! lol