Recently, I had the opportunity to be invited to an event called "Women and Whiskey"
The event was held at South Restaurant in Philly and it was my first time there. I had heard things about the place, and it was exactly what I expected it to be. A very classic atmosphere with high quality food and great presentation in the food, drinks, and the staff.
For the Women and Whiskey event, I attended it alone because all of my Whiskey loving friends had to work that day. 🙁 None the less, even though I don't really like going to events alone, I thought it would be a great way for me to break out of my shy shell and speak to people and network at least with the special featured guest and others who came out to enjoy it.
The event took place from 4p to 6pm. I arrived around 5 after battling a bit of light traffic coming from NJ. When I arrived I saw a familiar face that I knew so I sat at the bar with them the whole entire time, and lo and behold, I was also sitting next to the owner/featured guest of the night, the owner and brewer of Saint Benjamin Brewing Company, Christina Burris.
One of the reasons that I attended the event was that I loved the name. It meant something to me, because throughout my experience within the beverage world I have noticed that there is a huge gap in the ratio of men to women within the industry in various positions in everything from the sales team to the production. It was very refreshing to me to see a female brewer who has an AMAZING product and making strides in the Philly beer scene! Can I tell you how much more motivated that made me to keep pushing in my business?!
Any whooo, lets get to the drinks I got to sample! 😀
There were 3 beers that were available to sample as well as a bourbon whiskey (not by St. Benjamin). I was excited to sample everything there was to offer but I made sure not to do it on an empty stomach. I ordered the Crispy Rock Shrimp appetizer just to make sure I had something in my system. It was delicious!!! It was basically fried shrimp with tartar sauce 8.0 lol (but not really tartar sauce!!! Lol I don't know what kind of sauce that was on it but it was tasty, I kinda want to put it on my fries and stuff.)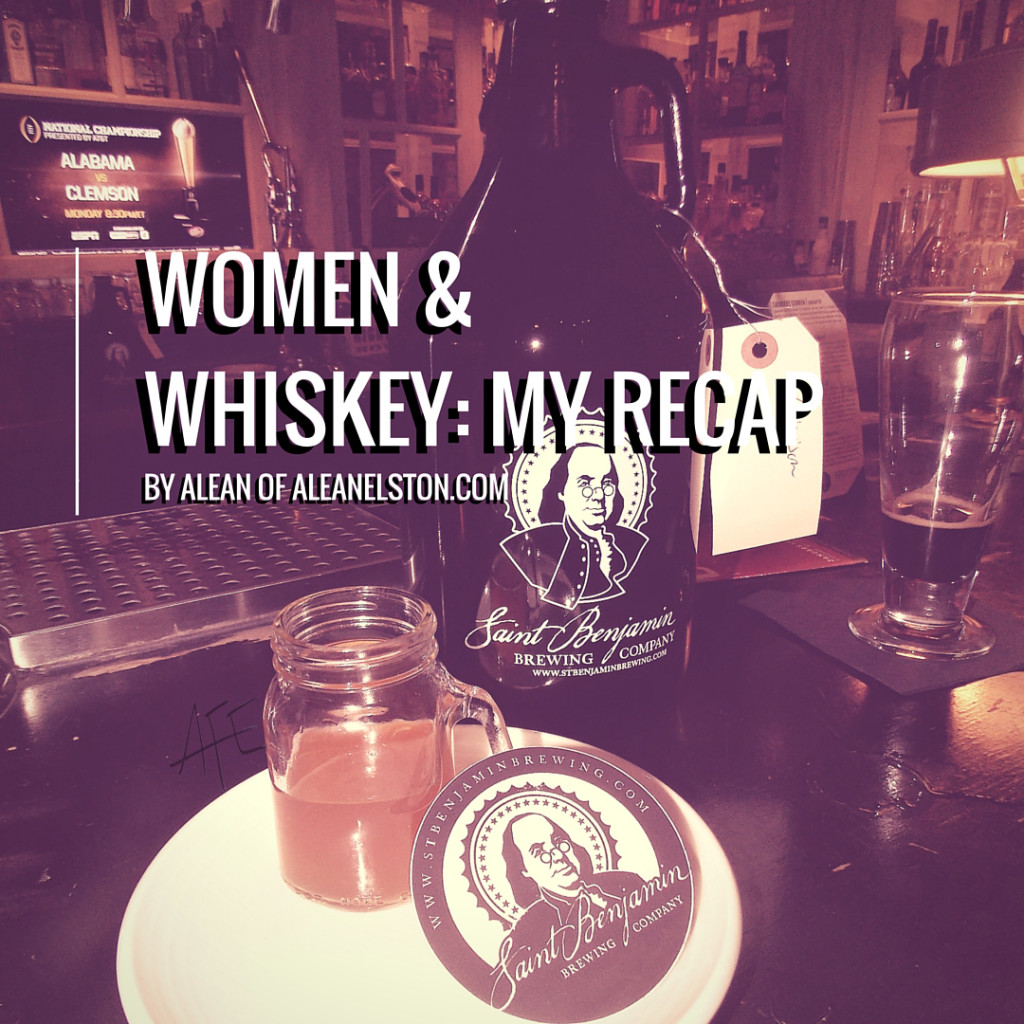 The First beer that I tried was suggested by Christina herself called Liaison Saison, the website describes it as A lightly hopped, dry saison with notes of peppercorn and a slight lavender finish. This floral beer appeals to saison aficionados as well as casual beer drinkers. It definitely had a floral scent to it, I could smell it before I took my first sip. The color was a light golden color and the flavor was crisp. I liked it and thought it was very smooth tasting for a beer that is 8% alcohol. The lavender added something to the overall taste that I think makes it leave a nice finish that isn't bitter or linger longer than it needs to.
The 2nd beer that I had was Little Peat from St. Benjamin. It was darker in color, somewhat reminiscent of a Guinness or other stout. Although, it didn't have the stout scent to me, It smelled less malty than most stouts but still had a tart taste in the beginning but finished with a smoky taste, VERY similar to a peaty scotch whisky. I can see how this is going to be a hit in the fall and winter months for this brand.
There was another beer that was available to try but I didn't try it. I wanted to save room for the Bourbon. *cue happy music*
I was able to try the Bulleit Bourbon 10 year, of which I loooooved! It was very smooth and easy to drink. It did have a peaty (smokey) taste but it wasn't overpowering and the after taste was very pleasant. It wasn't bitter or sweet, it was very light finish. According to the brand – "Bulleit 10 is the brand's selected reserve, delicious bourbon that, at 91.2 proof, is consistently smooth, russet in color, rich with oaky aromas and hints of vanilla and dried fruit with a long smoky finish." I CERTAINLY didn't get the 91.2 proof feeling but I guess that's a good thing, it definitely goes down smooth.
Overall, I had a good time, got to know some great new drinks and a new way to eat shrimp, and I may have a new spot to stop in and catch some entertainment when I'm in the city.
To learn more about the brands I mentioned, be sure to check them out:
Saint Benjamin
Twitter – @stbenjaminbrew
Instagram – @stbenjaminbrew
Facebook – http://www.facebook.com/stbenjaminbrew
Website – http://stbenjaminbrewing.com
Bulleit Bourbon
Instagram – @BulleitUS
And be sure to follow me on Instagram – @topmodelwithbottles 🙂